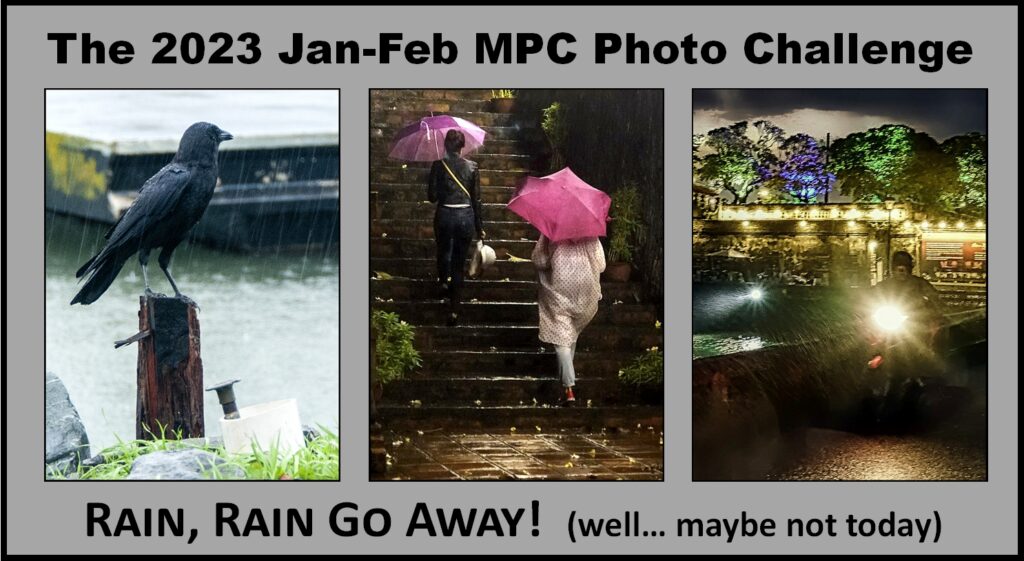 Our January/February challenge theme is "Rain, Rain Go Away". Entries can be uploaded to the Marin Photography Club page on Meetup.com.
Rain, rain go away? Well… maybe not today
There is a lot of rain around right now so let's see your take on the rain. Your photos can include anything that has rain. It can be storms, king tides, rainbows, lightening or people in the rain. Be creative, have fun and show us your creativity.
This challenge closes at midnight on February 28. Your image must be taken during the challenge period. We check the metadata! 😊
Good luck!
Photos MUST be taken during the challenge period, November 15 – December 31.
The date captured must be entered in the Title area, along with your title.
Unlike PollUnit, you can only vote for one image.
To vote, write in the comments section "I VOTE FOR THIS ONE"
You can NOT vote for your own.
You must vote to win.
We encourage everyone to comment on others' images
For the winner:
The winning image becomes our MPC Meetup banner
The Image Flow in San Anselmo will print an image of the winner's choice
Go to the Meetup Challenge page HERE
---
Feel free to email the MPC Challenge crew with your questions or issues:

[email protected]

Past MPC Photo Challenges
---